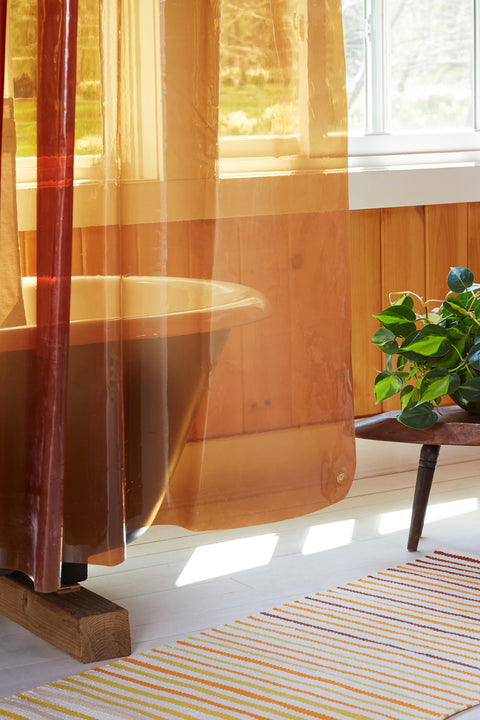 Sun Shower Honey
These curtains are FINAL SALE and will not be eligible for refunds or exchanges.
Introducing our Sun Shower curtains! Safe, non-chlorinated (zero off-gassing) EVA with the juiciest color and crystal clear transparency. 
Our EVA is PVC and BPA-free.
You'll know it's a Quiet Town curtain by its luxuriously heavy weight and our embossed QT logo. We applied the same thoughtful details to our Sun Shower collection as we did to our canvas curtains: 100% brass grommets & rounded corners so the Sun Showers can be used alone or as a liner with our canvas curtains. 
Added Bonus: Our Sun Shower curtains are made from a heavy, 12 gauge EVA so it won't "stick" to you in the shower.
Color may appear more or less saturated depending on drape and light in your space.
Care:
At the first sign of soapy residue, wipe clean with a gentle spray cleaner and gently "exfoliate" with a soft brush. 
Extreme Heat (temperatures over 120˚F) will melt the E.V.A. 
Color:
Amber
Materials:
100% EVA made in China
100% Turkish brass grommets
Dimensions: 72" x 72" & 72" x 84"
Weight: 2.2lbs & 2.4lbs
Testimonials
From other Quiet Towns
"They have the RADest bathroom accessories to really make your space feel unique and modern. Best part is they are ethical and sustainable!"
"I've always loved the color palette from Quiet Town"
"We have a bunch of [Quiet Town's] curtains at camp and I love every one of them! They have effortlessly cool and fun style and are based out of Brooklyn "
"Every color combo is perfect!"
"Functional and beautifully balanced."

"I love the earthy colors and the handmade feel"