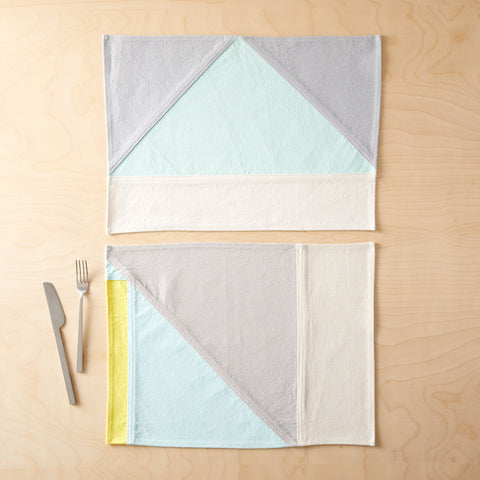 Narlai Mint Placemat
Set of 2, mix & match quilted canvas placemats made from a Narlai Mint shower curtain. These particular curtains contained small irregularities that prevented us from selling them with the rest of our production. Rather than throw them away, we were able to repurpose them for our collaboration with West Elm.

Each placemat in the set will be cut from a different part of the curtain so they will not be an exact match.
100% GOTS certified Organic cotton canvas
Made in Brooklyn
Colors: Mint, Yellow, light Grey, Natural (depending on the set)
Care: Machine wash cold, tumble dry. Iron to remove wrinkles. 
Testimonials
From other Quiet Towns
"They have the RADest bathroom accessories to really make your space feel unique and modern. Best part is they are ethical and sustainable!"
"I've always loved the color palette from Quiet Town"
"We have a bunch of [Quiet Town's] curtains at camp and I love every one of them! They have effortlessly cool and fun style and are based out of Brooklyn "
"Every color combo is perfect!"
"Functional and beautifully balanced."

"I love the earthy colors and the handmade feel"