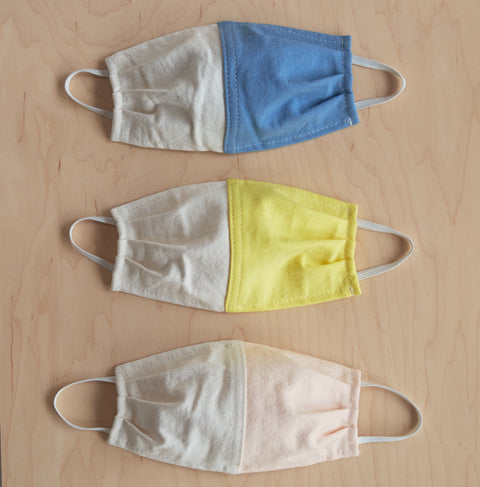 Atlantic Adult Masks
Set of 3 masks: Natural/Chambray, Natural/Yellow, Natural/Peach
Each mask is handmade in North Carolina by sewers who are on a mission to help their communities. For every mask set sold, we will donate 3 to essential workers, child-care facilities, food banks & others on the front lines of this pandemic.

Made from our domestically grown, 100% cotton canvas and soft elastic for the ear pieces.  Each mask will provide a single-layer of breathable protection during this time of social distancing. 

This type of mask is recommended  for use during essential public outings like grocery shopping and doctors visits. Our masks are not a substitute for medical grade, N95 masks but can be used as a cover to prolong use. Please wash between uses. 
Made in collaboration with Sew Co., our passionate sewing partners in North Carolina. 
Masks are made with 100% up-cycled materials from our production runs at Sew Co. These masks are not for profit and are being sold at our cost. 
Care: Machine wash, tumble dry low
*This item is FINAL SALE and cannot be returned.
Testimonials
From other Quiet Towns
"They have the RADest bathroom accessories to really make your space feel unique and modern. Best part is they are ethical and sustainable!"
"I've always loved the color palette from Quiet Town"
"We have a bunch of [Quiet Town's] curtains at camp and I love every one of them! They have effortlessly cool and fun style and are based out of Brooklyn "
"Every color combo is perfect!"
"Functional and beautifully balanced."

"I love the earthy colors and the handmade feel"