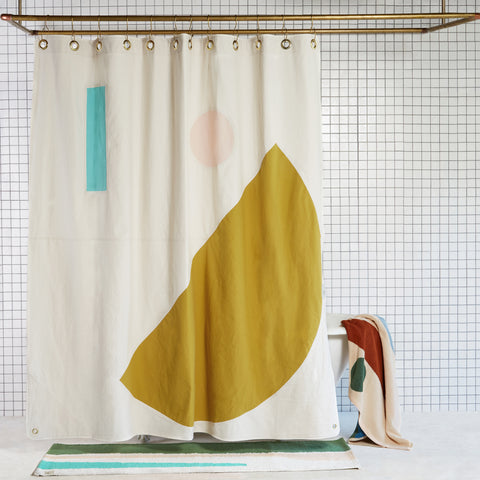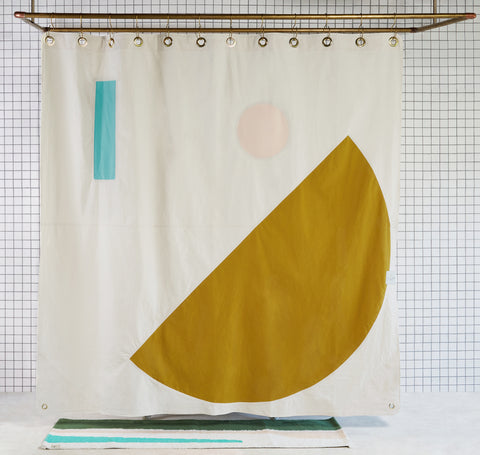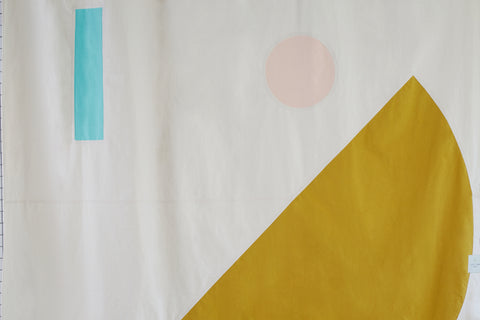 Beacon Hesse
This shower curtain is inspired by the rock cairns we leave on a hiking trail. Those delicately balanced and impermanent rock formations that mark your course. 
The Beacon is constructed using intricately laid quilting patterns that embed our colorful canvas into un-bleached, natural canvas. 
Each interior seam is bound with cotton binding for a luxurious and clean finish. 
Handmade in Brooklyn using 100% cotton canvas grown, milled & dyed in the USA. 
Colors: Natural, Mustard, Peach, Jade
Finished with 100% brass grommets.
Curtains constructed in Brooklyn, canvas milled in USA, grommets imported from Turkey.
CARE:
Machine wash in cold water. Dry on low heat. Recommended use with a liner.
DIMENSIONS: 72" x 72"
WEIGHT: 3.7lbs
Testimonials
From other Quiet Towns
"They have the RADest bathroom accessories to really make your space feel unique and modern. Best part is they are ethical and sustainable!"
"I've always loved the color palette from Quiet Town"
"We have a bunch of [Quiet Town's] curtains at camp and I love every one of them! They have effortlessly cool and fun style and are based out of Brooklyn "
"Every color combo is perfect!"
"Functional and beautifully balanced."

"I love the earthy colors and the handmade feel"