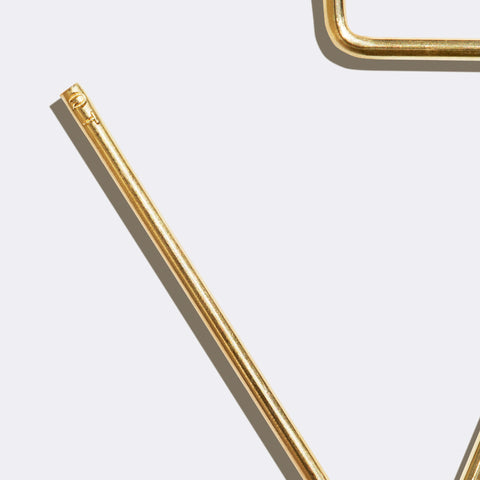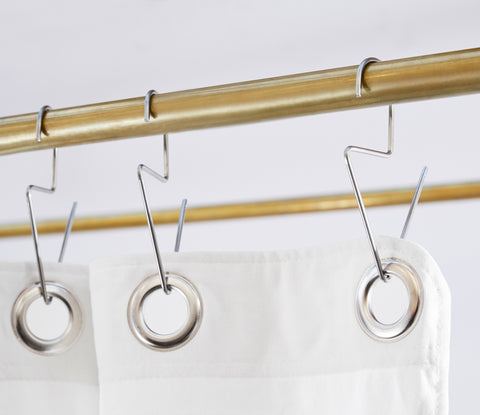 Venice Hook Brass
You'll love how easy it is to hang your shower curtain from our Venice hooks. The open-ended "V" is so "hanger-friendly" you could do it with your eyes closed. But you'll want to open them long enough to notice that each hook has been individually stamped with a QT, like a piece of jewelry.
The Venice hooks can be hung with the open end facing inside or away from the tub. 
100% Brass
Set of 12
Fits standard 1" diameter shower rod. Don't be afraid to apply a small amount of pressure when hooking them onto your rod. 
Hooks measure 4.75" L x 2.75" W and will add approx 3" to your total curtain length
Made in the USA
(Missouri, to be exact)
Testimonials
From other Quiet Towns
"They have the RADest bathroom accessories to really make your space feel unique and modern. Best part is they are ethical and sustainable!"
"I've always loved the color palette from Quiet Town"
"We have a bunch of [Quiet Town's] curtains at camp and I love every one of them! They have effortlessly cool and fun style and are based out of Brooklyn "
"Every color combo is perfect!"
"Functional and beautifully balanced."

"I love the earthy colors and the handmade feel"