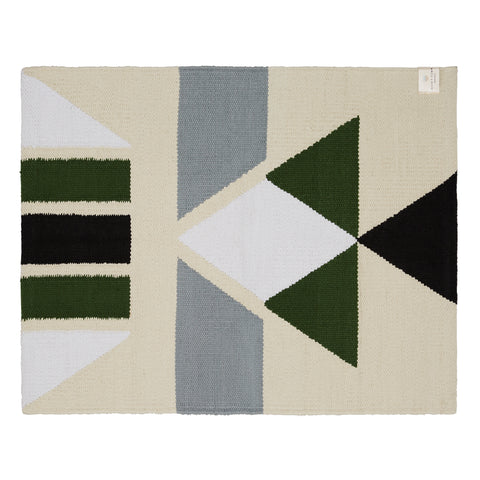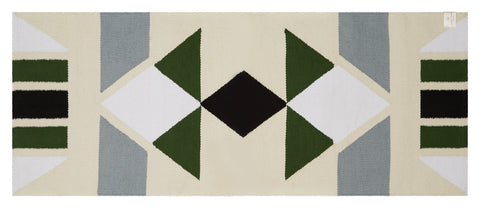 Mendocino Pine
Named after the Pacific-coast quiet town known for epic scenery, this hand-woven bath rug will bring those mountainscapes to you. You could actually put this Kilim anywhere in your house, but it happens to be perfect for your bathroom. It's 100% cotton, dries quickly and provides great texture to bare feet.

Each rug is hand-woven in India at a GOTS-certified, REACH factory. Our Manufacturer is investing in Biogas energy and clean-water practices. They give back to their community by providing interest free loans to employees as well as funding a nearby hospital and school. 
Colors: Natural background with grey, black, pine green and white geometric shapes.
Bath Size - 31"x24" 
Runner Size - 56"x22" 

Each rug may vary slightly due to its hand-woven construction.
CARE
Recommended hand wash to prolong life of rug. Lay flat to dry. Machine wash cold, with like colors, only when necessary.
Testimonials
From other Quiet Towns
"They have the RADest bathroom accessories to really make your space feel unique and modern. Best part is they are ethical and sustainable!"
"I've always loved the color palette from Quiet Town"
"We have a bunch of [Quiet Town's] curtains at camp and I love every one of them! They have effortlessly cool and fun style and are based out of Brooklyn "
"Every color combo is perfect!"
"Functional and beautifully balanced."

"I love the earthy colors and the handmade feel"